Guess what I did? Finally! I earned this: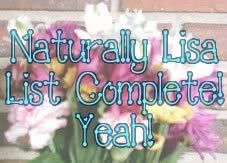 And
- I earned it fair and square! I completed the whole list! I did it on Tuesday, Aug. 7th. I almost did it again on Wednesday, but, I was missing one bottle of water. Total bummer to miss it for a stupid bottle of water! Ah well, I am getting better about getting back in the swing of things. The swing of healthy things.
You know one thing that really helps me? Stretching. Yep, stretching. It's really that simple. It is one form of exercise that I really like and I am really good at it - I am super limber. And when I am staying stretched out, I feel good and well, sort of ....athletic. It's kind of embarassing to say, but, it's true. It makes me feel athletic. And that, in and of itself, is inspiring. It encourages me to embrace a healthy attitude - in all things, you know? Stretching can be beneficial in a number of ways:
1. Increased Range of Movement
As one constantly stretches, the length of the muscles and the tendons are also increased. This will help in increasing the range of your movement. Thus, the limbs and joints will be able to move, way before an injury can take place.
2. Increased Ability to Perform Skills
When you have a wide range of movement, you will be able to do more things. Stretching helps you to have a more active lifestyle.
3. Injury Prevention
One can prevent injury to joints, tendons and muscles with stretching. When the muscles and tendons are well-flexed, they are considered in good working order. This will help in a faster recovery and decreased soreness. The muscles of the body will be able to take more exhausting and rigorous movements with less probability of being injured.
4. Reduce Muscle Tension
If the muscles are given their regular exercises and stretching, it is less likely that they will contract. This will definitely relieve you of any muscle pain or problems.
5. Enhance Energy
Being able to move more will also give you more energy. Stretching will also help enhance your awareness of your own body. As such, you are going to be more driven to move rather than sit at your desk all day. (Of which I'm often guilty. Eeks!)
6. Reduces Cholesterol
Research also shows that doing prolonged stretching exercises, like yoga, will help reduce the cholesterol in the body. This of course must be accompanied by a healthy diet. This could prevent and even reverse the hardening of the arteries, allowing you to avoid coronary diseases.
Yep, stretching is definitely cool. Hey, if it's something physical that I'm good at - I should just go for it, right? I think so!